Word class WordPress Hosting, that is secure, reliable and super-fast!
This article is designed for first time users of WordPress hosting of Pendeo or In-Tuition Cloud Services. In this article you will learn:
How to set up your account

Provision your first product

Learn a bit more about the control panel

How to retrieve your login credentials for your server and your database.
Getting Started
Step 1: Set-up your Account
Click here to create an account OR if you've already created an account log in here.
Step 2: Provision your First Product
A. On your "Products Page" click "Add Product" and fill out the prompted instructions on each page. We recommend provisioning your account in Development Mode – don't worry you can switch to live at any time. The last step will be to Click "Provision" – your new product will be set up in no time.
B. You will be emailed important login details for your product. Wait for this email before proceeding.
Step 3: Learn a bit more about the Control Panel
A. Find the product you just provisioned – your product will be listed under "Your Products" or "Your Customers" depending on how you set it up in Step 2.
B. To the right of yoursite.com will be the "Product Type" and "Product Actions".

Product Actions:
WP-Admin: Edit your WordPress site with the login credentials emailed to you.
Manage: Click "Manage" to access all of your sites details.
C. Once you click "Manage" on the left side you'll see the following: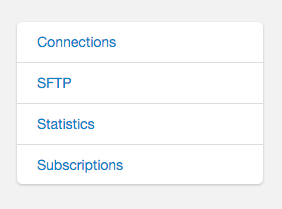 Connections: This will display all the details for your website. On this page, you can see the current mode of your website (either Development Mode or Live) as well as your SFTP and Database details.
SFTP: This will display your SFTP details for your WordPress site also listed under your "Connections".
Statistics: These are the general statistics for your WordPress site.
Subscriptions: View all of your subscriptions, set your account to Auto-Renew and cancel your services.
Step 4: Locate your Login Credentials
Using the information from Step 3 – click on your "Connections" for the Product/WordPress Site you'd like to Manage. This below video will show you how to retrieve your Login Credentials.
That's it! You've provisioned your first product, learned a bit more about the control panel and retrieved the login details for your WordPress site – now you know how to start working on your WordPress site in WP-Admin OR click here to learn how 

you can migrate an existing WordPress site. 
---
*This guide is applicable for both customers of In-Tuition Cloud Services and Pendeo WordPress Hosting.